Here you will always find a way to solve the problems of your vintage car or  see the car you have always dreamed of becoming a reality.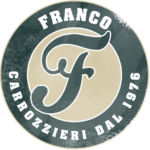 Inspection, valuation and advice
For our current and potential customers we take care of the preliminary assessment, whether it is a customer car or a car to buy.
We carry out on-the-spot assessments, evaluations and strike deals, personally, throughout Europe, mostly.
Once the choice is made we agree with the customer the timing and costs of the deal, the respect of which is one of our greatest strengths.
We take care of the complete restoration of your car, disassembly, stripping, metal work, painting and final assembly.
The experience and knowledge acquired allow us to perform any type of intervention with the greatest result, using the best suppliers of spare parts in Europe.
You can contact us to bring back your vintage car in perfect condition.
"I've always found a great availability, kindness and a high professionalism! Now he works with Giacomo and his colleagues, he increased his skill and his ability to solve almost impossible problems! It's always a pleasure coming back."
"In addition of being the only car garage I happily entrust my cars to… it's also the right place to talk about our passion, listened by kind and skilled people. "
"Always polite and available, also in case of emergency pre gathering. If they can satisfy people like me, little bit maniac of their cars, you definitely can trust them. Plus they are genuine with clients and honest with pricing, rare values nowadays."
We perform any type of repair on vintage cars, due to aging or accidental damage.
As for restoration work, maintenance and repairs are carried out according to the rules of artisan vintage cars: respecting the authenticity of your car.
We only use genuine spear parts that, if not available, are tailor-made and historically accurate for your car.
Short and long term storage
Inside our warehouse there is an area dedicated to storage in maximum safety, in a clean, dry and ventilated environment.
The cars have their own battery charger, and are periodically turned on to ensure starting at any time.
Contact us to know the availability of places and their costs.
Would you like to
fix
restore
evaluate
fix
restore
evaluate
fix
restore
evaluate
fix
restore
evaluate
fix
restore
evaluate
your car?
We are here to meet all your needs!