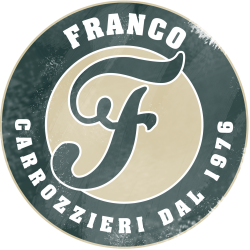 BEFORE WORKING ON YOUR CAR we want to be sure of one thing:
that you love them as much as we do
Welcome to the Carrozzeria Franco where since more than forty years we are truly passionate about vintage cars
A vintage car is a masterpiece destined to make history, not only of car making but also of project and design.
Jaguar, Austin Healey, MG are just some of the legendary brands we deal with.
Every detail is carefully studied and worked by us, a state-of-the-art job.
Because this is what it's all about: a work of art designed by real masters deserves masters of art to touch it.
You have to be passionate and experienced to preserve the value of that work of art, and here at Carrozzeria Franco we put all our experience and professionalism on each of them.
"In addition of being the only car garage I happily entrust my cars to… it's also the right place to talk about our passion, listened by kind and skilled people."
"I come back to Franco with pleasure every time, it's the right place to restore a car without too much issues."
"Thoughtful, patient, honest and above all careful with the needs and the requests of the most punctilious people like me."
Inspection, valuation and advice
Short and long term storage
Do you have a question? Or do you want to make an appointment?